2020 has been a difficult year for all of us. But it was a year of learning, of getting our priorities right. A year that grounded us literally and figuratively. Now that 2020 has finally ended, being cautiously optimistic is the way to approach 2021 at best. That said, I hope you had a great start to the New Year.
Books have been a coping mechanism for most of us. A place to escape from the realities of life. A few hours to ourselves that rejuvenate us.
2020 has been a good reading year for me. I may not have read a lot of books since my clients took a priority. But it has been a year I read some excellent books. A year that has seen the smallest DNF shelf ever. Perhaps because I picked the books more judiciously. Hoping to continue that into 2021.
I read across genres and devices. I discovered Storytel in 2019 and it was my go-to device in 2020 for some excellent audiobooks. Although it was difficult to choose my favorite reads, here are the top 10 picks.

Buy on Amazon | Add to Goodreads

If I were to pick one book as the book of the year for me, it would be The Mountains Sing by Nguyễn Phan Quế Mai. A vivid and gripping account of Vietnam's 20th century history.
The story of a grandmother and a granddaughter across two timelines, it explores events from the 1920s to the 2010s. From the invasions to the infamous Vietnam war. The Great Hunger to the Land Reform. And more importantly, a tenacious woman's struggle to survive. I cannot recommend the book enough.
Banned Book Club
Buy on Amazon | Add to Goodreads
2020 began on a high note with the graphic novel, Banned Book Club by Kim Hyun Sook. It is a classic example of censorship and fascism. A dramatic true story of political division, fear-mongering, anti-intellectualism, the death of democratic institutions, and the relentless rebellion of reading.
I have to confess I didn't know much about South Korean Politics before reading the book. The book was an eye-opener and completely unputdownable. It is an important book that is extremely relevant in today's age. A must-read.
Buy on Amazon | Add to Goodreads
"The world needs anger. The world often continues to allow evil because it isn't angry enough." This quote perfectly sums up Burn It Down: Women Writing about Anger for me.
I came across the book on my Goodreads feed and had to pick it up instantly. It is compilation of some hard-hitting essays. A nuanced exploration of women's anger from a diverse group of women writers. This is an important book and HIGHLY recommended.
Buy on Amazon | Add to Goodreads

I launched my blog two years back to promote lesser-known books. Worthy reads that have missed the hype. Radical Spirits: India's First Woman Doctor and Her American Champions by Nandini Patwardhan is one such book.
History celebrates success. Very few have heard of Dr. Anandi Joshee. Perhaps because she survived only a few months after receiving her medical degree. It is a biography unlike any other. A painstakingly built up narrative based on original letters, university archives, and newspaper accounts.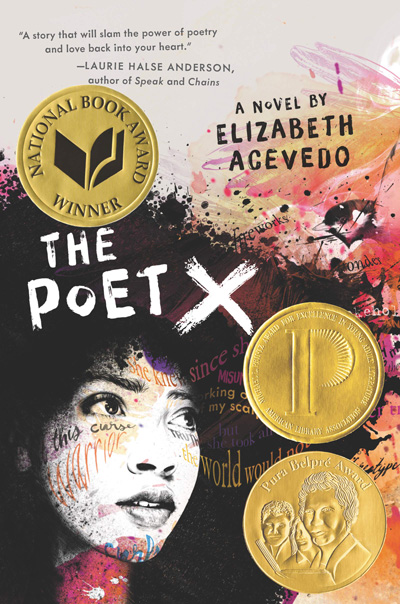 Buy on Amazon | Add to Goodreads

I am not a big fan of popular books. More often than not, they are all hype and no substance. I was quite skeptical when I picked up The Poet X by Elizabeth Acevedo. The book left me pleasantly surprised and haven't stopped recommending it since.
Written in verse (slam poetry), the book is quite a unique read. It is a coming of age story of 15-year-old Xiomara, a rebellious teenager. I would recommend picking up the audiobook narrated by the author. It is an experience in itself.
The Dutch House
Buy on Amazon | Add to Goodreads

Often, they are the simple stories well told that stay with you the longest. The Dutch House by Ann Patchett is another hyped book that I enjoyed reading in 2020. The winner of 2019 Goodreads award in Historical Fiction genre. And longlisted for the Women's Prize 2020.
It is the story of a house, a family, a set of siblings, and their journey through the years. Listening to the audiobook narrated by Tom Hanks was the icing on cake. Do pick up the book.
Buy on Amazon | Add to Goodreads

I am not into award-winning books but JCB Prize for Literature always seems to get it right. Moustache by S. Hareesh had been getting mixed reviews due to its misogynist content, but I had been keen to pick it up. I had signed up for Resh @thebooksatchel's read-along in January to discuss the cultural nuances. But then, Sona from the Blogchatter Team made me an offer I could not refuse.
Combining myth and magical realism, it is a no holds barred look at caste politics, social and economic hierarchies. It is a heavy read that requires time and patience. I am all set for a re-read.
Buy on Amazon | Add to Goodreads

Hiraeth: Partition Stories From 1947 by Dr. Shivani Salil will always have a special place in my heart. It is a book that is too personal. Stories that are an emotion.
Similar to the author, I too have grown up hearing stories of the partition. The short story collection is a tribute to all refugees, on both sides of the border. Heartbreaking stories of loss. Uplifting stories of hope.
Buy on Amazon | Add to Goodreads

Is talent inborn or it can be developed with deliberate practice? Can you rewire your mind at will?
There are a number of self-help books around. And most of them are the same old regurgitated stuff. No Limits: The Art and Science of High Performance by Mukesh Bansal cuts through the clutter. A book I keep returning to.
Ritu Weds Chandni
Buy on Amazon | Add to Goodreads

I don't read children's books and would have probably missed this one if not for the recommendation from Sahi @ flippingthruthepages. At its heart, the graphic novel is a story of a lesbian couple struggling to gain acceptance against the colorful backdrop of an Indian wedding.
The story from a child's point of view speaks of innocence. A must-read for south-Asian parents and an excellent conversation starter. The book found no takers and was listed as a Read Now at Netgalley. Thanks to the relentless promotion by the book community, I am glad to report that the author has found a publisher for the book.

All in all, 2020 has been a good one for the bibliophile in me. The list would not be complete without the special mentions. The books I enjoyed reading too.

Kintsugi: A Novel
A People's History of Heaven
Unlocked: Historical Tales in Verse
Hope and Other Dangerous Pursuits
Of Curses and Kisses
Irrationally Passionate: My Turnaround from Rebel to Entrepreneur

How had your reading year been? What are your favorite books? Have you read any of the books I listed above? Do share about them in the comments below.
2020 in Review: The Best Books I Read @CindyAnnDSilva @nooranand @events_showcase @RREStudios #BlogaberryDazzle #BohoPonderings
Click To Tweet

This blog post is part of the blog challenge 'Blogaberry Dazzle' hosted by Cindy D'Silva and Noor Anand Chawla, and happily SPONSORED BY RRE Studios and SHOWCASE Events.

This post may contain affiliate links. If you click on a link and make a purchase, I may receive a very small percentage of the sale at no cost to you.