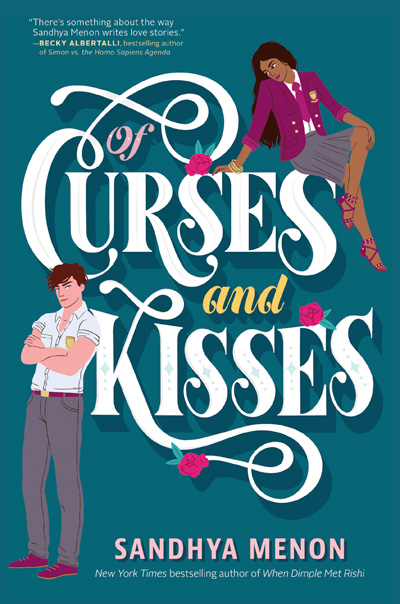 Genre: Young Adult Romance
Publisher: Simon Pulse
Pages: 384
Published: February 2020
Rating: 4.5/5
Buy links: Amazon | B&N | Indies

Of Curses and Kisses by Sandhya Menon is a contemporary retelling of Beauty and the Beast set at an elite boarding school in the mountains–think Beauty and the Beast meets Gossip Girl! It's out February 18th, 2020 and even has a *map* in the hardcover. Featuring an Indian princess and a misanthropic British aristocrat, it's immersive, glamorous, and full of smoldering kisses! I hope you guys will order it wherever you get your books! Read on for the official description from the back of the book…
Will the princess save the beast?
For Princess Jaya Rao, nothing is more important than family. When the loathsome Emerson clan steps up their centuries-old feud to target Jaya's little sister, nothing will keep Jaya from exacting her revenge. Then Jaya finds out she'll be attending the same elite boarding school as Grey Emerson, and it feels like the opportunity of a lifetime. She knows what she must do: Make Grey fall in love with her and break his heart. But much to Jaya's annoyance, Grey's brooding demeanor and lupine blue eyes have drawn her in. There's simply no way she and her sworn enemy could find their fairy-tale ending… Right?
His Lordship Grey Emerson is a misanthrope. Thanks to an ancient curse by a Rao matriarch, Grey knows he's doomed once he turns eighteen. Sequestered away in the mountains at St. Rosetta's International Academy, he's lived an isolated existence—until Jaya Rao bursts into his life. Sparkling and elegant, Jaya's unlike anyone Grey has ever met. Still, he can't shake the feeling that she's hiding something. Something that might just have to do with the rose-shaped ruby pendant around her neck…
As the stars conspire to keep them apart, Jaya and Grey grapple with questions of love, loyalty, and whether it's possible to write your own happy ending.

Review:
Beauty and the Beast is not exactly my favorite fairy tale. It is one of those that did not age well for me. I loved reading about Belle and the Beast as a kid, but now I cannot help wondering…. was it Stockholm Syndrome?
Sandhya Menon has always been my go-to for feel-good reads and her books are an auto-buy. When I read about Sandhya Menon's plan for a new series on fairy tale retellings, I was intrigued by how she would re-tell Beauty and the Beast in a modern context. Needless to say, she aced it while retaining the quintessential charm of her books.
At some point in time, we all have struggled between following our heart, and what we are expected to do. As the crown princess of the royal family of Mysuru, Jaya is expected to live up to people's expectations. She tries to chastise her sister against breaking the rules while not believing in them herself. Through the course of the book, Jaya realizes that it is okay to put herself first.
Grey is a kind of a character you just want to give a hug. A misanthrope who is not just trying to protect himself emotionally, but also those around him. You cannot help but feel for him as someone who faces the brunt of the curse for no fault of his. I particularly enjoyed reading his journey from a broody, broken adolescent to one who dared to dream.
The story is not an out and out re-telling. Grey is not exactly a beast although he is the one cursed. Sandhya Menon has included a bit of Indian history for the Rao matriarch's curse that adds an interesting element to the story. Apart from parental pressure, the book also picks on the topic of emotional abuse and abandonment by parents.

She couldn't make this boy fall in love with her. She couldn't break his heart. Because if she did, it was her, not him, who was the beast.


Set in a boarding school in picturesque Aspen, Of Curses and Kisses has all the ingredients of the fairy tale. A curse, a rose, and a bit of magic. The story is well-paced. It is an angsty, slow-burn romance with Jaya trying to do the right thing by exacting revenge, and Grey scared to even hope of a normal life.
The side characters are also well etched. Jaya's sister Isha is a rule breaker (if someone with an interest in robotics and a dream of being an engineer is considered to be one). Grey's friends refuse to give up on him. The nerdy Rahul is a favorite. Each of them has a back story. In a way, almost all the characters are misfits. The book is a first in the St. Rosetta's Academy series and I am looking forward to the stories of the other characters as well.

"People who don't turn out how their parents or their society expects are the best people of all."


I enjoyed reading the book and would highly recommend it. If you are looking to pick up a Beauty and the Beast retelling without the typical jerk of the male character, this is a book for you.
Blog Tour: Of Curses and Kisses by Sandhya Menon Book Review @smenonbooks #OfCursesAndKisses #BookReview
Click To Tweet
---

About the author
Sandhya Menon is the New York Times bestselling author of When Dimple Met Rishi, Of Curses and Kisses, and many other novels that also feature lots of kissing, girl power, and swoony boys. Her books have been included in several cool places, including the Today show, Teen Vogue, NPR, BuzzFeed, and Seventeen. A full-time dog servant and part-time writer, she makes her home in the foggy mountains of Colorado. Visit her online at SandhyaMenon.com, on Twitter or on Instagram.

Tour Schedule

February 4th
BookishOwl Reviews – Q&A, Playlist, Favourite Quotes
trishajennreads – Review
February 5th
The Heart of a Book Blogger – Q&A
February 6th
Star is All Booked Up – Review, Mood Board
The Book Nerd – Review/Movie Casting
February 10th
Brooke Reviews and Sweeps – Review
February 11th
Not Just Fiction – Q&A
Emma Must Read – Q&A, Playlist
February 12th
Subtlebookish – Q&A
Kirsty's Book Reviews – Review
Stagey Bookish – TBD
February 13th
A Court of Books and Magic – Review
Books. Libraries. Also, cats. – Books to read if you liked OCAK
February 14th
Magical Reads – Playlist
Living Life the Write Way – Review
Flipping Through the Pages – Review, Mood Board
February 15th
Naija Book Bae – Review, Excerpt
February 16th
New Chicks On The Block – Review, Excerpt
Open Pages – TBD
February 17th
Quintessentially Bookish – Review
My World of Books – Review
New Chicks On The Block – Review, Excerpt
February 18th
Quintessentially Bookish – Review
Scorpio Book Dreams – Review
Novels and Nebulas – Review
New Chicks On The Block – Review, Excerpt
February 19th
Bohemian Bibliophile – Review
Stagey Bookish – TBD
New Chicks On The Block – Review, Excerpt
February 20th
New Chicks On The Block – Review, Excerpt
BookCrushin – Feature Post
The Baroness of Books – Mood Board
Open Pages – Playlist, Review
February 23rd
Velarisreads – Review
February 24th
Emma Must Read – Q&A, Playlist
February 25th
Bookish Girl Magic – Review, Reaction
Deckled Edges – TBD
Book Lover's Book Reviews – Q&A, Review
February 26th
Brunette Bibliophile – OCAK controls what I eat for 24 hours


I would like to thank Sandhya Menon and the publisher for providing a digital copy of the book for the blog tour. All opinions are my own.
This post may contain affiliate links. If you click on a link and make a purchase, I may receive a very small percentage of the sale at no cost to you.