Genre: Non-Fiction
Publisher: Westland Books
Pages: 382
Published: January 2020
Rating: 4.5/5
Buy at: Amazon


Summary:
Tech entrepreneur Mukesh Bansal has been a lifelong student of human performance optimisation. He has studied the science behind it, and worked closely with high performers across business, sports, and entertainment, to understand what it takes to transcend apparent limitations and achieve true potential.
Through his entrepreneurial experience and studying the field of health and fitness, Bansal came to understand the enormous power of plasticity: the ability of the human brain to rewire itself at will as we develop new skills. He also realised that high performers across domains rely on common tools that were embraced by ancient wisdom and are validated by modern science. Knowing that high performance is not a matter of genetics or luck is highly empowering.
No Limits distills Bansal's findings on talent, deliberate practice, mindset, habit, willpower, and learning. It is a guide to maximising one's potential with well-defined strategies. So, no matter what you do, you can be a superior version of yourself, performing at increasingly better levels, constantly reaching higher.

Review:
Is talent innate or it can be developed with deliberate practice? Can you rewire your mind at will? Is creativity limited to the arts? How does one unleash the creativity within?
No Limits: The Art and Science of High Performance by Mukesh Bansal weaves together ancient wisdom and modern science providing you insights and tools for high performance. A comprehensive book that guides you towards the path of excellence while dispelling long harbored myths. The body and the mind do indeed have no limitations.

"The human brain has 100 billion neurons, each neuron connected to 10,000 other neurons. Sitting on your shoulders is the most complicated object in the known universe." – Michio Kaku


Unlike the typical self-help books, this is a well-rounded one where the author shares experiences, wisdom, and insights. The case studies from the fields of music and sports make for an interesting read. It has a lot of information packed in a little less than 400 pages. I would suggest spacing out the reading to process it all.
The book is divided into four sections – the author's own journey, the science and foundation, the tools, and finally the implementation. It is a well-researched book that discusses habit formation, the plastic mind, and life's purpose with equal ease.

"Creativity is allowing yourself to make mistakes. Art is knowing which one to keep" – Scott Adams


I couldn't help comparing it to Ikigai: The Japanese Secret to a Long and Happy Life that I read last month. The two books are quite similar in structure.
The language is simple. Although it does include a lot of statistics, it is easy to read. The book contains "performance hacks" that are quite common in self-help books. They are a great way to implement the takeaways from the chapters. There is also a performance cheat sheet at the end of the book to summarize it all. The book is peppered with quotes that I always relish.
I enjoyed reading the book and would be returning to it quite often. I highly recommend it and it is an asset to your bookshelf.
Is talent innate or can be developed with deliberate practice? Can you rewire your mind at will? No Limits by Mukesh Bansal Book Review @WestlandBooks #BookReview
Click To Tweet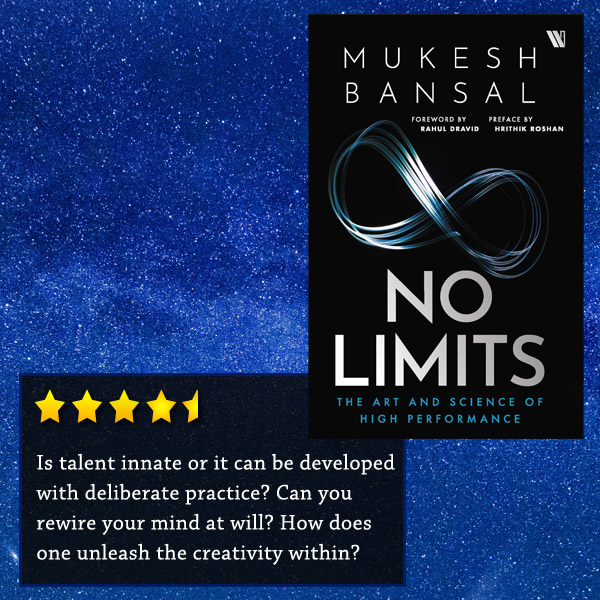 ---

About the author
Mukesh Bansal is a computer science engineer from IIT Kanpur and a technology entrepreneur. He founded India's largest fashion retailer, Myntra, and headed the e-commerce division of Flipkart after a highly successful acquisition.
He is the co-founder of Cure Fit Healthcare Pvt. Ltd. where he is involved in building a next-generation health platform that makes holistic health easy and accessible for everyone. He has over ten years of experience in multiple early-stage start-ups in the Silicon Valley (NexTag, eWanted, Centrata, newScale) where he held various senior management positions in product management and marketing.
I would like to thank Writersmelon and the publisher for providing a copy of the book for review. All opinions are my own.
This post may contain affiliate links. If you click on a link and make a purchase, I may receive a very small percentage of the sale at no cost to you.
Image by FelixMittermeier from Pixabay