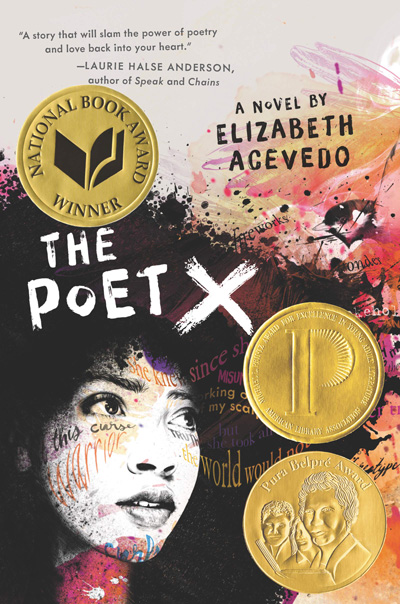 Genre: Poetry/Young Adult
Publisher: HarperTeen
Pages: 368
Published: March 2018
Rating: 4.5/5
Buy on Amazon | Add to Goodreads


Summary:
Xiomara Batista feels unheard and unable to hide in her Harlem neighborhood. Ever since her body grew into curves, she has learned to let her fists and her fierceness do the talking.
But Xiomara has plenty she wants to say, and she pours all her frustration and passion onto the pages of a leather notebook, reciting the words to herself like prayers—especially after she catches feelings for a boy in her bio class named Aman, who her family can never know about. With Mami's determination to force her daughter to obey the laws of the church, Xiomara understands that her thoughts are best kept to herself.
So when she is invited to join her school's slam poetry club, she doesn't know how she could ever attend without her mami finding out, much less speak her words out loud. But still, she can't stop thinking about performing her poems.
Because in the face of a world that may not want to hear her, Xiomara refuses to be silent.

Review:
I was quite skeptical when I picked up The Poet X by Elizabeth Acevedo. I am not a big fan of popular books. More often than not, they end up being a disappointment. Add to that, a young adult fiction written in verse. I was pleasantly surprised and haven't stopped recommending it since.
The Poet X is a powerful book. A book that makes you think, one that stays with you long after you have read it. It is about being true to yourself. Being comfortable in your own skin. Written in verse (slam poetry), the book is quite a unique read. It is a coming of age story of 15-year-old Xiomara, a rebellious teenager. One whole finds release in poetry.

My brother was birthed a soft whistle:
quiet, barely stirring the air, a gentle sound.
But I was born all the hurricane he needed to lift—
and drop—those that hurt him to the ground.

It is a peep into the Dominican culture. There is a highly religious mother, Mami, who is almost a fanatic. A father, Papi, who is as good as being invisible. A genius gay twin brother, Twin, whom she must protect.
I found the mother's character quite intriguing. Although her relationships with her boyfriend Aman, her best friend Caridad, and her teacher Ms. Galiano are fleshed out well, I wish the characters were explored further. But it is understandable since the book is written in the first person from Xiomara's perspective.
There are a number of themes well woven into the narrative. It picks on the topics of slut-shaming, body positivity, sexism, homophobia, and parental expectations. Teen or not, the book would resonate with every woman out there. More so with someone who has grown up in a country like India, where even today, rape culture is more or less mainstream. Where women have to deal with unwanted attention and sexism daily.

And I think about all the things we could be if we were never told our bodies were not built for them.

Religion is a touchy topic and young adult books rarely explore it. On the contrary, Xiomara questions religion and the confirmation classes. Why it is not okay to question beliefs and blind faith. Much to her mother's dismay. The book isn't preachy but empowering. This is perhaps one of the most important themes of the book.
I enjoyed reading the book and would highly recommend it. It is one of my favorite reads of the year. Even if you do not enjoy young adult books, this one will work for you. Do pick up the audiobook narrated by the author. It is an experience in itself.
An intense coming of age story of a rebellious teenager. The Poet X by Elizabeth Acevedo Book Review #BookReview #BohoPonderings #MyFriendAlexa
Click To Tweet

I'm taking my blog to the next level with Blogchatter's My Friend Alexa.

---

About the author
Elizabeth Acevedo is a New York Times bestselling author of The Poet X, With the Fire on High, and Clap When You Land. Her critically-acclaimed debut novel, The Poet X, won the 2018 National Book Award for Young People's Literature. She is also the recipient of the Printz Award for Excellence in Young Adult Fiction, the CILIP Carnegie Medal, and the Boston Globe-Hornbook Award. Additionally, she was honored with the 2019 Pure Belpré Author Award for celebrating, affirming, and portraying Latinx culture and experience.
This post may contain affiliate links. If you click on a link and make a purchase, I may receive a very small percentage of the sale at no cost to you.
Image by Georgiana Romanovna from Pixabay