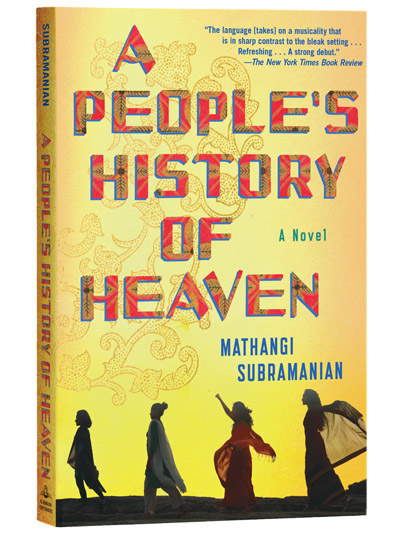 Genre: Fiction
Publisher: Algonquin Books
Pages: 290
Published: March 2019
Rating: 4.5/5


Summary:
Heaven is a thirty-year-old slum hidden between brand-new, high-rise apartment buildings and technology incubators in contemporary Bangalore. In this tight-knit community, five girls on the cusp of womanhood-a politically driven graffiti artist; a transgender Christian convert; a blind girl who loves to dance; and the queer daughter of a hijabi union leader-forge an unbreakable bond.

When the local government threatens to demolish their tin shacks in order to build a shopping mall, the girls and their mothers refuse to be erased. Together they wage war on the bulldozers sent to bury their homes, and, ultimately, on the city that wishes that families like them would remain hidden forever.

Elegant, poetic, and vibrant, A People's History of Heaven takes a clear-eyed look at adversity and geography and dazzles in its depiction of love and female friendship.

Review:
Once in a while, you come across a book that stays with you long after you have read the last sentence. Characters that you cannot help but keep thinking about. Scenes and instances that you keep going back to. A People's History of Heaven is one such book for me. A lyrical debut novel from Mathangi Subramanian, this is one that draws you in from the first page.
The book is based in a slum named Heaven in Bangalore. One that is on the verge of being razed. It follows the lives of a diverse group of teenage girls on the verge of womanhood. Banu, an artist and a rebel who lives with her ailing grandmother. Joy, a transgender who identifies as a girl. Rukshana, who struggles with her sexuality as a Muslim. Deepa who is clinically blind but that does not hold her back. Padma who had to grow up too soon shouldering the responsibility of her mother. Heaven is a haven for the girls. A bubble of sorts where being different is acceptable. Ever so often, they get a reality check. But that does not dampen their spirits.

"It's enough to make you believe that all those enormous stone Kalis aren't enough to hold the fury lying dormant in a single woman's heart."


The book does not romanticize. It is about hope and tenacity. The resilient women think on their feet, to make the best of what life has served them. Heartbreaking at times, uplifting at others. Not for a moment do you feel pity for the characters – the girls or their mothers, grandmothers, and head-mistress. In fact, you root for them. It talks about casteism, sexism, patriarchy, ableism, homophobia, conversions, forced sterilization, and primarily, lack of education. Nowhere does it get forced or preachy, or seem like an attempt to check all the boxes.
There are a lot of characters, and the non-linear narrative gets a bit confusing at times. It would have been a perfect 5 for me if not for it. That said, I loved the book and would highly recommend it.

Blog Tour: A People's History of Heaven by Mathangi Subramanian Book Review @mathangiwrites #APeoplesHistoryOfHeaven #BookReview
Click To Tweet
A People's History of Heaven by Mathangi Subramanian is available for purchase at Amazon.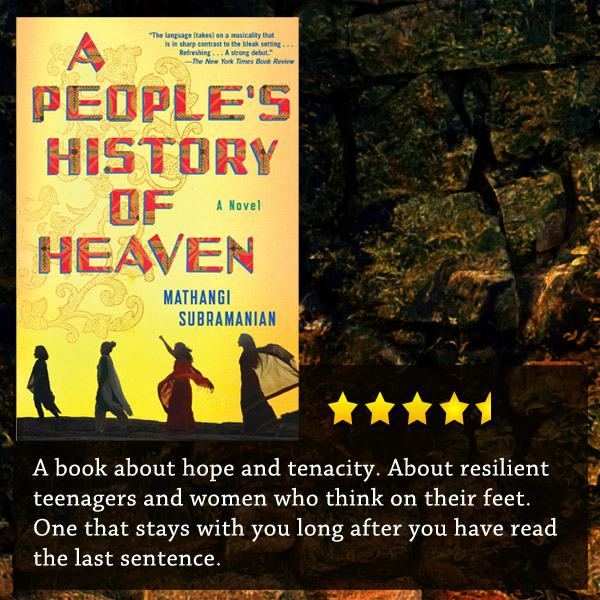 ---

About the author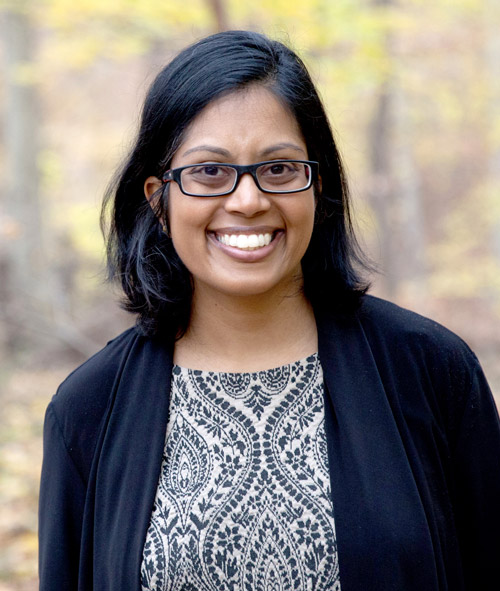 Mathangi Subramanian is an award-winning Indian American writer, author, and educator. She is a graduate of Brown University and the Teachers College of Columbia University, and the recipient of a Fulbright as well as other fellowships. Her writing has previously appeared in the Washington Post, Quartz, Al Jazeera America, and elsewhere.
In 2019, her novel A People's History of Heaven was longlisted for the Center for Fiction First Novel Prize, and named a Skipping Stones Honor Book.
I would like to thank Algonquin Books for providing a digital copy of the book for the blog tour. All opinions are my own.
This post may contain affiliate links. If you click on a link and make a purchase, I may receive a very small percentage of the sale at no cost to you.