A celebration of food memories. A deeply personal journey. An attempt to preserve long-lost recipes. Books steeped in nostalgia that both educate and entertain.
Over the years, the cookbook has evolved into a food memoir. Going beyond the instructions to the history and origin of the food and cuisine. Not just limited to family recipes. Connecting with the reader on a personal level. Be it growing up in the lanes of the walled city of Delhi or the memories of the tiffin packed lovingly.
Are cookbooks dying? Absolutely not. Cookbooks have their own audience and some prefer a to-the-point approach to cooking. If you are looking for recipes along with a slice of history and a peek into the author's connection with food, then food memoirs are for you.
Last month, as the first in the On the Spice Trail series, I shared a list of books that will change your perceptions of Indian food. Today I share some food memoirs by culinary writers, connoisseurs, and authors. Books that go beyond ingredients and techniques to the history of their beloved food.
Masala Memsahib: Recipes and Stories from My Culinary Adventures in India
by Karen Anand
Buy on Amazon | Add to Goodreads
Celebrated food writer and author Karen Anand needs to introduction.
A guide through the flavors of India, Masala Memsahib can be considered a compilation of the gourmand's experiences of almost three decades. The author takes us on a culinary journey across five Indian states – Goa, Gujarat, Kerala, Maharashtra, and West Bengal. Exploring mouth-watering local cuisines, diverse eating practices, and fabulous culinary histories.
Peppered with photographs of kitchens and streets from her travels, the book includes 100+ home-style recipes. No butter chicken or black dal here.
Parsi Kitchen: A Memoir of Food and Family
by Anahita Dhondy
Buy at Amazon | Add to Goodreads
Forbes Asia's '30 under 30′ and former chef-partner at SodaBottleOpenerWala, Anahita Dhondy has spent the last decade taking her culinary heritage to ambitious new heights.
The Parsi Kitchen is a peek into the everyday life in a Parsi household. A whimsical memoir that is as much about the author's journey to embracing Parsi cuisine. From her grandmother's Ravo to her own take on the Bombay duck inspired by Gujarati flavors, it is a delightful ode to food, flavors, and family.
Peppered with anecdotes and classic recipes handed down through the generations, the book is a must-read. Highly recommended!
Degh to Dastarkhwan: Qissas and Recipes from Rampur Cuisine
by Tarana Husain Khan
Buy at Amazon | Add to Goodreads
What constitutes and distinguishes Rampur cuisine?
Tarana Husain Khan came across a treasure trove of cookbook manuscripts dating back to the 19th century at the Raza Library in Rampur. Some recipes were all but lost. Thus began a journey of culinary consciousness fuelled by the desire to Rampur back on the culinary map of India.
From the grand to the humble. From the qorma at weddings to the pulao at mournings. Part food memoir, part culinary history, Degh to Dastarkhwan celebrates the Rampuri food legacy with anecdotes and recipes. Be it the recollections of a princess to the spiritual ambiance of a Sufi shrine to stories of khansamas.
This book is a must-read.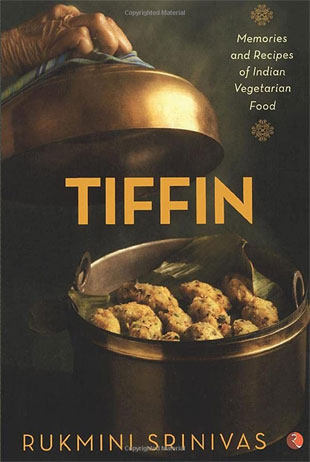 TIFFIN
by Rukmini Srinivas
Buy on Amazon | Add to Goodreads
An informal snack. A light meal. TIFFIN is TV chef and author Rukmini Srinivas's effort to keep the homemade tiffin tradition alive.
A delightful memoir and cookbook, she shares her emotional and deeply personal bond with food. From Chitappa's masala vadai and Appa's vegetable cutlet to bondas on Marina Beach, Narayana's bajji and Amma's Mysore pak.
An interesting amalgamation of old-school cooking techniques with innovative twists, it is an ode to food, family, and friendship.
Jasmine and Jinns: Memories and Recipes of My Delhi
by Sadia Dehlvi
Buy at Amazon | Add to Goodreads
An effort to preserve my "Dehli" that is fading away – Sadia Dehlvi
The author shares stories of her growing up in the city and her food memories. More than just a food memoir, Jasmine and Jinns is the socio-cultural history of the melting pot that is Delhi and its impact on food. The Mughal influence on the Kayastha cuisine to the Saudagaran community. From inside kitchens to the bustling bazaars of the walled city.
Don't judge the book by its cover. It is a treasure trove of origin stories and recipes of classic dishes such as biryani, qorma, kofte, kebabs, and kheer. A beautiful tribute to Delhi food.
CRUMBS!
by Saee Koranne-Khandekar
Buy at Amazon | Add to Goodreads
"From sheermal to ciabatta, bhakri to baguette – welcome to the magical world of bread-making!"
Can you imagine Indian food without its bread? Chappati, pav, paratha, akki roti, bhakri, porotta, sheermal, puri, thalipeeth, the list is endless.
Crumbs! demystifies the art of making bread. Be it the soft sandwich loaf or homemade Indian bread. It is as much the author's own journey of baking, her visits to the Irani bakery Yazdani, a crash course in making Goa's local Poee, and exploring the kitchens of the best paratha-makers.
If you enjoy bread, don't miss this informative yet entertaining read.
Mrs LC's Table: Stories about Kayasth Food and Culture
by Anoothi Vishal
Buy at Amazon | Add to Goodreads
The Kayasth cuisine has been all about adaptability and inventiveness. From Mughal to colonial influence, it can be considered India's first 'fusion' cuisine. A true blue example of the Ganga-Jamuni tehzeeb.
Named after her grandmother, Mrs LC, Anoothi Vishal takes us on a journey of Kayasth culture and food, sharing her grandmother's recipes. Yakhni pulao to kofte and kebabs for the men. Faux meat for the women who were devoutly vegetarian – jackfruit biryani to yam cutlets that look like fish to aate ka keema.
Although limited to just 20 recipes, the author's effort to revive the cuisine is an engaging read.
Hope you enjoyed a journey into the world of food and lost recipes by food connoisseurs and writers. I will be sharing more food memoir recommendations soon. As always, I would love to check out your recommendations too. Do share in the comments below.
Incredible Indian Food Memoirs – Memories, Traditions, and Some Lost Recipes #FoodWriting #BookishLeague
Click To Tweet

This post is part of the Bookish League blog hop hosted by Bohemian Bibliophile.
This blog post is part of the blog challenge 'Blogaberry Dazzle' hosted by Cindy D'Silva and Noor Anand Chawla.

This post may contain affiliate links. If you click on a link and make a purchase, I may receive a very small percentage of the sale at no cost to you.
Photo credit: Canva.com