Books and food! There is no better combination!
Honestly, was the first thought that crossed your mind "cookbooks or recipe books"? Cookbooks are great but there is a huge selection of books about food too. Food writing that educates about the food we eat. Food memoirs, food history, travelogues, and many more.
Join me as I share book recommendations on my favorite topic apart from books, food. Particularly Indian food. Where we explore the history of Indian food and spices, its origin, the cuisines, and lots more.
We cannot imagine Indian food without spices. In fact, food without spices is for the sick or when we are mourning. Not just limited to food, spices are included in desserts, over-the-counter medicines, and cosmetics.
As I launch the On the Spice Trail series, here are some books that will change your perceptions of Indian food, bust some myths, answer some long-standing questions, and above all, impact the way you eat.
Masala Lab: The Science of Indian Cooking
by Ashok Krish
Buy at Amazon | Add to Goodreads
On the top of the list is the brilliant Masala Lab: The Science of Indian Cooking. The chemistry of cooking not limited to equations. A study of how different ingredients interact with each other across temperatures, proportions, and pressures.
Cooking is an art as well as a science. Masala Lab explores the science of Indian cooking. The science that our mothers and grandmothers applied to Indian dishes as second nature. Be it adding a tea bag to chickpeas while boiling. A pinch of salt to kheer. Or fenugreek seeds to rice and lentils for the batter.
I highly recommend this unique and engaging approach to Indian food. The author continues to share his thoughts on trending foods, food myths, and much more on his Instagram channel @_masalalab
The Flavour of Spice
by Marryam H. Reshii
Buy on Amazon | Add to Goodreads
"A book that celebrates spices, and the integral ways in which they shape what we eat."
Well-known food critic and writer Marryam H. Reshii takes you on an incredible journey into the world of spices. From the market yards of Guntur to the foothills of Sri Lanka to the hillsides of Sikkim to the holy city of Mashhad, Iran.
Divided into three sections, The Big Four (chilli, cumin, turmeric, and coriander), The Aromatics, and Seed Spices, this beautifully written and well-researched book explores the origins of 15 commonly used spices, how they traveled, their usage, and some amusing anecdotes. Also included are some must-try family recipes for the foodie in you.
Don't miss this fascinating and delightful read.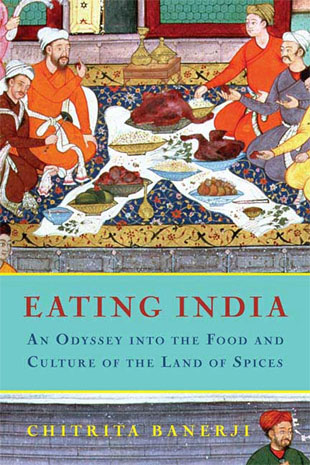 Eating India: An Odyssey into the Food and Culture of the Land of Spices
by Chitrita Banerji
Buy at Amazon | Add to Goodreads
Is "authentic" cuisine truly authentic? Or does it evolve over time?
Author Chitrita Banerji travels across the length and breadth of India in search of answers. From traditional weddings to roadside shacks. City markets to a temple canteen. Exploring how India's turbulent history has shaped its people and its cuisine. Be it the Aryans, Persians, Middle Eastern Jews, Mongols, Arabs, or Europeans.
A travelogue. A book on culinary history. A food memoir. It is difficult to box the book into a genre. It is not meant to be a comprehensive chronicle of the cuisines of India but is an informative read nonetheless.
If you want to read up more on Indian culinary history, check out Feast and Fasts: A History of Food in India by Colleen Taylor Sen and Whose Samosa is it anyway?: The Story of where 'Indian' food really came from by Sonal Ved.
Food and Faith: A Pilgrim's Journey through India
by Shoba Narayan
Buy on Amazon | Add to Goodreads
I am sure you would agree with me that as a child, the prasad was the highlight of any religious event.
True to its name, Food and Faith is a pilgrim's quest into the world of faith through food. Primarily devoted to Hindu temples. it explores the cultural history and the significance of 15 sacred foods or prasadams. From Udipi to Ajmer to Mumbai to Goa to Amritsar. From satvik food to Christmas eve to langar to Passover celebrations with Bene Israelis.
Not limited to food, it also explores the history and cultural significance of the 15 places of worship. Without being deeply philosophical or preachy. A testament to how food binds us all, I highly recommend you pick it up.
Farm to Fingers: The Culture and Politics of Food in Contemporary India
by Kiranmayi Bhushi
Buy at Amazon | Add to Goodreads
Can food be used as a weapon? To exercise power or to express one's identity? Who decides what a farmer can grow? What we can and cannot eat?
Farm to Fingers is a collection of essays exploring the political, economic, historical, and socio-cultural contexts of food practices. From production, transformation distribution, and consumption. The agrarian policies and their impact. The role of economic institutions.
It picks on some hot-button topics such as the meat-eating and slaughter ban, the glaring disregard for food safety, the fast-food eateries and fusion food, and above all, food sovereignty.

These are just a few books to get you started on the journey to discover the magnificent world of Indian food. Stay tuned for more recommendations throughout the series. Have you read the books above or have recommendations for me? I would love to hear them. Do share in the comments below.

This blog post is part of the blog challenge 'Blogaberry Dazzle' hosted by Cindy D'Silva and Noor Anand Chawla.
This post was created for the Blogaberry Creative (Monthly) Challenge.
This post may contain affiliate links. If you click on a link and make a purchase, I may receive a very small percentage of the sale at no cost to you.
Photo credit: Canva.com