Literature plays an important role in increasing social awareness and empathy. Throughout history and in recent times, authors have helped remove pre-conceived notions around mental illness. Shattering stereotypes. Busting myths and misconceptions.
But literature has been equally responsible for "romanticizing" mental health. There have been numerous works of fiction that have portrayed people with mental health issues as incapable of functioning normally. How often have you come across books where the characters are labeled "quirky". Love stories where the main character suffers from a mental illness (that, of course, gets magically cured with undying love). Or an anti-hero whose psychotic behavior is justified with mental illness. These books perpetuate the stigma and discrimination. Adding to the misconceptions and forcing people to not share. 

Mental Health Talks
Gender Talks was my pick for the first quarter of Blogchatter's Cause A Chatter campaign. I shared non-fiction book recommendations to better understand feminism in India, must-read feminist translated literature, and feminist fiction book recommendations. 
This quarter, as a part of the Mental Health Talks, I would be sharing mental health book recommendations. Must-read literature, memoirs, and personal narratives by those struggling with mental illnesses and also by caregivers.

Mental Health & Indian Literature
It is a no-brainer that mental illness is still taboo in India. It is a difficult conversation that does not allow the person to share. Add to it the lack of knowledge of available resources. People suffer in silence every day.
Not that things are not improving, but there is still a long way to go. There are numerous books on mental health by Indian authors. Over the past decade or so, there have been more conversations around mental health and a marked improvement in how it is represented in literature. Unfortunately, those sharing their experiences both as ones struggling with mental health issues and as caregivers are still few and far between.

Personal Narrative and Memoirs
Mental illness is isolating. Particularly in South Asian countries like India, where it is considered a "fad". Reading a personal narrative or a memoir works two-fold. It helps those struggling find a voice and hope. To accept their illness and more importantly, themselves. The memoirs also help create a much-needed awareness and generate empathy. Creating a safe place for those suffering to share and seek help.
My first post in the series is a recommendation of personal stories. The author's own journey that helps dispel the misconceptions surrounding mental illness. And sometimes hold a mirror to our society where mental health issues are brushed under the carpet (often with disastrous consequences).
Side Effects of Living: An Anthology of Voices on Mental Health by Jhilmil Breckenridge (Editor), Namarita Kathait (Editor)
Buy on Amazon | Add to Goodreads

Each body is different. Each mental illness is different. And each experience is different.
Side Effects of Living is an anthology of prose and poetry by survivors, writers, poets, and artists. From depression to bipolar disorder to schizophrenia, it is a collection of raw accounts from not just those struggling with mental illness, but also caregivers. A reflection of how mental illness is perceived in Indian society. Highly recommended.
I've Never Been (Un)Happier by Shaheen Bhatt
Buy on Amazon | Add to Goodreads
"You can't be depressed if there's nothing wrong or if you have no real problems. (Ironically, people who believe this also believe that those with 'real problems' don't have the time or luxury to suffer from depression.)
It is a common misconception that mental health issues are a result of traumatic experiences. The body's coping mechanism. I've Never Been (Un)Happier by Shaheen Bhatt dispel this misconception and a lot many more. It is an honest look at living with depression in privileged circumstances.
How to Travel Light: My Memories of Madness and Melancholia by Shreevatsa Nevatia
Buy on Amazon | Add to Goodreads
At the age of 23, Shreevatsa Nevatia was diagnosed with bipolar disorder. How to Travel light is a deeply personal memoir of what bipolar disorder entails and his life as a journalist. It dispels the myth that those with bipolar disorder are not competent enough.
The book emphasizes the importance of good medical care and a strong support system. It is an honest look at the mental health services in India and what ails it.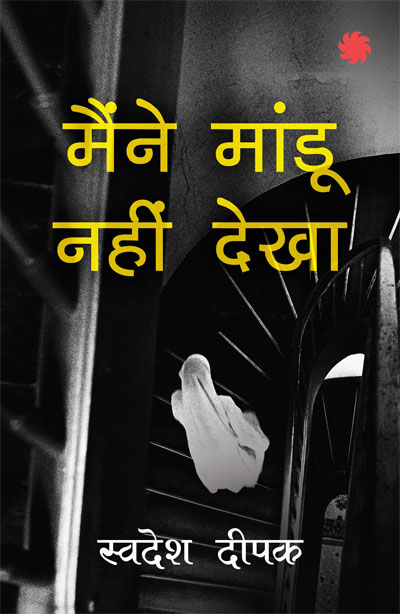 मैंने मांडू नहीं देखा (Maine Mandu Nahin Dekha) by Swadesh Deepak
Buy on Amazon | Add to Goodreads

This year, I have been making a conscious effort to promote books in Hindi language. My final recommendation is Maine Mandu Nahin Dekha, a no holds barred memoir by Hindi novelist and Sahitya Akademi Award winning playwright, Swadesh Deepak.
Sometimes the most disturbed mind is the most creative. The memoir is an account of the author's seven-year battle with bipolar disorder. The fragmented, collage-like narrative is a reflection of the author's struggles.
The translated version is available in English as well. A word of caution, though. Avoid the ebook and go for the print book if you want to pick the Hindi version.
This is by no means a comprehensive list. What are your recommendations by Indian authors on mental health? Do share about them in the comments below.
Mental Health & India – Memoirs and Personal Narratives #CauseAChatter #MentalHealthTalks #BookChatter @blogchatter #BohoPonderings
Click To Tweet

This post is part of Blogchatter's CauseAChatter
This post may contain affiliate links. If you click on a link and make a purchase, I may receive a very small percentage of the sale at no cost to you.
Image by Imtiyaz Quraishi from Pixabay