Genre: Middle Grade
Publisher: Algonquin Young Readers
Pages: 320
Published: April 5th, 2022
Buy at: Book Depository | Barnes & Noble | Amazon | Add to Goodreads


Science, magic, and myth clash in an intriguing tale of our environmental crisis.
Amy Herrick, the acclaimed author of the charming and clever The Time Fetch, returns to the beloved characters this spring with a gripping standalone novel. A book about climate change and about the young people who are often the bravest advocates fighting against it. Following four quirky best friends, Herrick's fantastical adventure, The Tiltersmith combines science and folklore to spin a page-turning, action-packed story of friendship, love, teamwork, and environmental stewardship.
"The Tiltersmith is meant to be read as a pleasure and a warning," says the New York native author. "Much of the action takes place in Prospect Park, Brooklyn, where the old elemental spirits and gods are said to still show themselves occasionally. The Tiltersmith explores a looming question. What's going wrong with our seasons and our eco-systems?"

Summary:
Myths and monsters collide with climate chaos in a thrilling fantasy adventure.

Spring has arrived in Brooklyn, New York, but winter refuses to let go. Sleet, snow, and even a tornado batter the city. Mr. Ross, the science teacher, believes climate change is the cause, but classmates Edward, Feenix, Danton, and Brigit suspect older, magical forces are at work. When a peculiar character calling himself Superintendent Tiltersmith appears with a keen interest in the foursome, their suspicions are confirmed, and they're swept up in a battle of wits and courage.
The friends must protect a set of mysterious tools belonging to the Lady of Spring. If they can free her from her underground prison, winter will end. But if the Tiltersmith steals the tools, he will keep the Lady in his power and upset the balance of nature forever.
The Tiltersmith by Amy Herrick Book Spotlight #TheTiltersmith @AmyEHerrick @AlgonquinBooks #BohoPonderings
Click To Tweet

Praise:
"Herrick combines vivid descriptions of climate events, school-set science lessons, and weather-related stories from various cultures around the globe… both resonates with current events and fits tonally alongside children's fantasy classics."
—Publishers Weekly
"Vacillating between scientific reasoning and lore from worldwide cultures, the descriptions of beautiful legends of seasons and the sobering study of climate change are so rich."
—Kirkus Reviews
"The author proves to have a keen eye for developing wonderfully dastardly villains. Tiltersmith is a fantastic bad guy who oozes disarming charm while also being deeply unsettling… cleverly handled… a compelling tale."
—Bulletin of the Center for Children's Books
"A twist on the myth of Persephone. The author crafts an intriguing tale of our environmental crisis by blending science, storytelling, and engaging characters. The book shares an important message regarding our future."
—YA Books Central

About Amy Herrick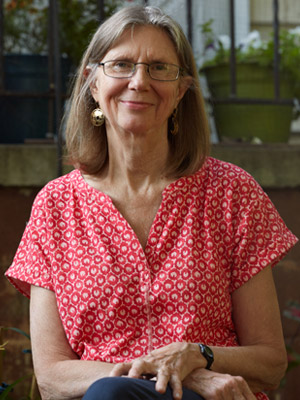 Amy Herrick grew up in Queens, New York, and attended SUNY Binghamton and the University of Iowa. She lives in Brooklyn, where she has raised two sons, taught pre-K and grade school, written books, and kept company with her husband and numerous pets. A retired teacher, she loves traveling, learning Spanish, and above all reducing her carbon footprint.
Follow her on Twitter: @AmyEHerrick.


This post is part of Blogchatter's CauseAChatter
I would like to thank Algonquin Books for providing a digital copy of the book for the blog tour. All opinions are my own.