Every once in a while, I enjoy picking up quick reads. When I am short on time, as a palette cleanser, and particularly after reading an emotionally draining tome.
If you follow me on Twitter, you would recently have come across my recommendation post, Shorts Reads That Pack a Punch, a post had written in 2019. Since then, I have garnered quite a list of recommendations across genres. Given the number of books that I want to recommend, I have divided the post into a series.
The first post is a list of books by Indian authors. It does not include the ever-popular books from Ruskin Bond, Sudha Murty, and R. K. Narayan. Or classics from Manto and Premchand. But as always, I am featuring relatively lesser-known books that are a must-read.
Whether you are short on time and are looking for a quick read over the weekend. Or want to get back to reading and looking for a bite-sized book. Or you need to catch up on your 2021 reading goal. These books are perfect to read up in a day.
Dopehri by Pankaj Kapur
Buy on Amazon | Add to Goodreads

At the top of the list is one of my favorite reads this year, Dopehri by Pankaj Kapur. At its heart, it is a simple story of an elderly widow living in a deserted Lucknow haveli. A lonely woman reclaiming her identity.
What sets the book apart is the writing. I highly recommend you pick the Hindi version. The Hindustani makes it a delightful read. Quite a rarity in contemporary Hindi language books. Barely 80 pages long, this is a must-read. You will not be disappointed.
Ghachar Ghochar by Vivek Shanbhag, Srinath Perur (Translator)
Buy on Amazon | Add to Goodreads

"It's not we who control money. It is money that controls us." The quote perfectly sums up Ghachar Ghochar by Vivek Shanbhag. A lower-middle-class family that comes across wealth and how it changes the dynamics of relationships.
The book is unapologetically Indian and is bound to invoke a memory. A simple story in 119 pages with a deeper meaning. Do pick it up if you haven't already.
Bombay Balchao by Jane Borges
Buy on Amazon | Add to Goodreads

Bombay Balchao just grabs you and doesn't let go. Set in Cavel, a tiny Catholic neighborhood on Bombay's D'Lima Street, it is a collection of interlinked short stories spanning seven decades. The transformation of Bombay into Mumbai.
It is as much about the history of the city's Catholic population (East Indians, Goans, and Mangaloreans) as it is about Mumbai. You identify with the existential issues: shared spaces, rent issues, water fights. A brilliant debut novel that is an unforgettable read.
Be My Guest by Priya Basil
Buy on Amazon | Add to Goodreads

Can food be used as a weapon? A powerful tool that unites and divides. Can hospitality be conditional? Be My Guest: Reflections on Food, Community, and the Meaning of Generosity explores the meaning of hospitality and the role food plays.
A short book of just over 120 pages, the book primarily focuses on food, community, and generosity. At times, nostalgia. Often, a collection of philosophical musings. It is a book that makes you think and introspect.
MOOM by Bani Basu, Arunava Sinha (Translator)
Buy on Amazon | Add to Goodreads

The last woman in the Agarwal family of Kolkata dies but remains around in spirit. She is audible and helps guide the men in the family. One day, she suddenly falls quiet. And no sooner, Moom, a young tween mysteriously appears in Agarwal House.
"Ladki dushman". What happens when all women of the family die or are killed? That is the underlying theme of Moom by Bani Basu. At its heart, it is about the absence of women. But also about them being invisible, why their voices are quelled. A brilliant book of barely over 200 pages deserves more love.
Bhaunri by Anukrti Upadhyay
Buy on Amazon | Add to Goodreads

Set in rural Rajasthan, Bhaunri by Anukrti Upadhyay is a story of obsessive love and the destructive power of desire. A tale about a fiercely independent woman that perfectly balances the contemporary with the traditional.
There is something atmospheric about the author's writing. This was the first book I read and she has been one of my favorites since. In fact, I would recommend all her books since they are short reads. Daura, Kintsugi, and Neena Aunty (in Hindi).
Undertow by Jahnavi Barua
Buy on Amazon | Add to Goodreads

In 1985, Rukmini marries out of caste and is subsequently banished by her family. Decades later, her twenty-five-year-old daughter, Loya, returns to Assam looking for answers.
Undertow by Jahnavi Barua is a poignant story of a dysfunctional family intricately woven with the socio-political history of Assam. A little under 200 pages, it explores the dynamics of an estranged family. A book where the river Brahmaputra can be considered a character too. The ending was unexpected, but it is a must-read nonetheless.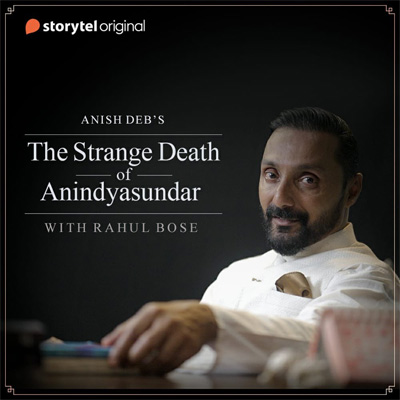 The Strange Death of Anindyasundar by Anish Deb
Read it on Storytel | Add to Goodreads

Mystery author Anindyasundar wakes up at a registration office to realize he is at the gateway to heaven. He manages to wrangle out 24 hours from the registrar to uncover who murdered him. A recap of the previous day. What follows is a series of comic tragic affairs. And Anindyasundar trying to flout the rules to escape his death.
I read the audiobook by Rahul Bose and it was a treat! Highly recommended.

Have you read the books I recommended. What are your favorite quick reads? I would love to hear your thoughts. Stay tuned as I would be sharing books from international authors soon.
Looking for quick reads that you can finish in one sitting? 8 Books by Indian Authors You Can Read in a Day #BohoPonderings #MyFriendAlexa
Click To Tweet
I'm taking my blog to the next level with Blogchatter's My Friend Alexa.
This post may contain affiliate links. If you click on a link and make a purchase, I may receive a very small percentage of the sale at no cost to you.
Image by Volker Glätsch from Pixabay