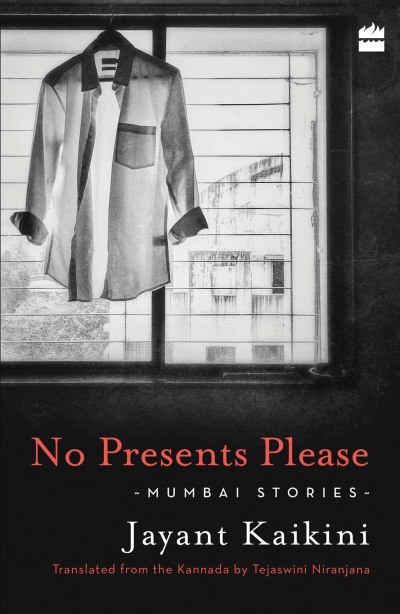 Genre: Fiction/Short Stories
Publisher: Harper Collins
Rating: 4.5/5 stars
Summary:
Jayant Kaikini's compassionate gaze takes in the people in the corners of the city, the young woman yearning for love, the certified virgin who must be married off again, the older woman and her medicines; Tejaswini Niranjana's translations bring the rhythms of Kannada into English with admirable efficiency. This is a Bombay book, a Mumbai book, a Momoi book, a Mhamai book, and it is not to be missed. – Jerry Pinto No Presents Please: Mumbai Stories is not about what Mumbai is, but what it enables. Here is a city where two young people decide to elope and then start nursing dreams of different futures, where film posters start talking to each other, where epiphanies are found in keychains and thermos-flasks. From Irani cafes to chawls, old cinema houses to reform homes, Jayant Kaikini seeks out and illuminates moments of existential anxiety and of tenderness. In these sixteen stories, cracks in the curtains of the ordinary open up to possibilities that might not have existed, but for this city where the surreal meets the everyday.

Review:
No Presents Please came highly recommended and I was looking forward to reading the book. It definitely did not disappoint.
This is not the kind of a book that you can read in one go. The stories make you think and reflect. Some make you question your own opinions, and some just leave you a bit disturbed. It takes a while to "chew on" the story, before moving on.
Jayant Kaikini stories are of ordinary men or women translated from Kannada to English by Tejaswi Niranjana. These are stories of Mumbai, and about Mumbai.
Unlike most books, the short stories are open-ended and often tend to feel abrupt. The discussion at the end of the book explains it well as it is meant to depict a change…. of a thought process, of life. Leaving us, the reader, to decide the direction. The insights into the translation process was also a treat to read.
My favourites were:
Unframed: A story about unclaimed photographs.
Water: A story based around the Mumbai flood. It depicts the quintessential Mumbai.
A Truckful of Chrysanthemums: Simply heartbreaking!
The book is a must read even if you are not a Mumbaikar. A well-deserved winner of the 2018 DSC Prize for South Asian Literature.
Follow my blog with Bloglovin