Reading your favorite book, have you come across a cleverly hidden reference to another book or series? Noticed a tiny detail and felt it had a deeper meaning? A garbled text that didn't make sense but was a puzzle to solve? You might have discovered a literary Easter egg.
What are Literary Easter Eggs
We all know of the chocolatey Easter eggs. But what exactly are literary Easter eggs?
Similar to eggs hidden by the Easter Bunny, literary Easter eggs are hidden references, symbols, or allusions to other works of literature. Often subtle and rarely obvious, they are equally enjoyed by readers and have them reaching for a reread.
A reference to a character or a novel, a hidden quote, a secret code or message, or an allusion to a classic. It can be included in the book cover or be a part of the story. From classics to contemporary literature, authors have been including easter Eggs to challenge their readers.
Easter eggs are not limited to books. There have been numerous ones in movies and TV series too. Some subtle nods and some not-so-subtle digs. As we approach Easter and kids get busy egg-hunting, I share with you some literary Easter eggs you may have missed.

Acrostic Poem in Alice Through the Looking-Glass
If you have ever wondered if Alice's character in Alice in Wonderland was inspired by a real person, you will find your answer in the acrostic poem at the end of Lewis Carroll's Alice Through the Looking-Glass titled A Boat Beneath a Sunny Sky. The first letter of every line spells out "Alice Pleasance Liddell", the young girl who inspired the story.
John Tenniel, Public domain, via Wikimedia Commons
Illustrations in A Series of Unfortunate Events
Each book in the 13-part series of A Series of Unfortunate Events by Lemony Snicket includes a full-page illustration at the end. It hints at the next book in the series. A snake towards The Reptile Room and a ticket booth towards The Carnivorous Carnival. I will leave the rest for you to solve.
Allusions and Foreshadowing in The Great Gatsby
The Great Gatsby by F. Scott Fitzgerald is full of allusions and foreshadowing. The most popular literary Easter egg is the allusion to the Bible. The author uses Dr. T.J. Eckleburg's billboard to foreshadow events in the story.
Other Easter eggs include an epigraph by poet Thomas Parke D'Invilliers (a nod to Fitzgerald's book, This Side of Paradise) and numerous references to Shakespeare's works.
A Web of Easter Eggs in Stephen King's Novels
Stephen King is known to weave a complex web of interconnected stories in his books. His books include numerous Easter eggs that not just refer to his books but to his contemporaries as well.
Richie Tozier in IT references the novel The Turtle Moves, which is a nod to Terry Pratchett's Discworld series. The Dark Tower is a treasure trove of easter eggs and includes characters and events from his other works as well as classics.
Symbolism in The Da Vinci Code
The Da Vinci Code is packed with symbolism and Easter eggs. Right from the Biblical symbolism to Mona Lisa to Vitruvian Man to the Fibonacci Series.
There are also some puzzles and clues to enjoy too. Coordinates to the CIA headquarters at Langley at the back of the dust cover to hidden messages in the introduction. But the most popular one is the encrypted code on the final page of Dan Brown's Deception Point.
1-V-116-44-11-89-44-46-L-51-130-19-118-L-32-118-116-130-28-116-32-44-133-U-130.
Corresponding to the first alphabet of each corresponding chapter, convert the code into a 5×5 cube and read top to bottom to reveal the name of Dan Brown's next book, The Da Vinci Code.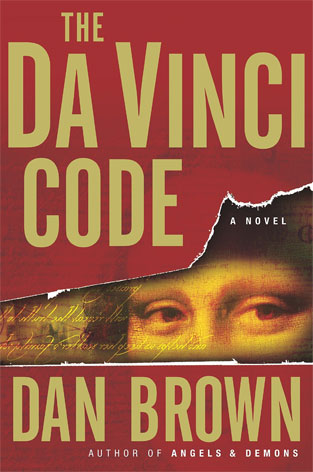 Subtle References in Agatha Christie Mysteries
If you are a fan of Agatha Christie, you would surely come across references to classic literature. The most popular Easter egg is the answer to a clue in Captain Hastings's crossword puzzle in Curtain that points to the murderer.
Her books often include nursery rhymes as subtle references. In And Then There Were None, the names of the ten characters are based on the nursery rhyme, "Ten Little Indians". Other references include"Sing a Song of Sixpence" in Five Little Pigs. And "Humpty Dumpty" in The Murder of Roger Ackroyd.
Author's Love Note in The Handmaid's Tale
The dystopian novel by Margaret Atwood has a subtle love note embedded in the book that is often missed.
Among the graffiti carved into a desk, Offred finds "M. loves G. 1972." Margaret Atwood married Greame Gibson in 1972.
J. R. R. Tolkien's Secret Language
If you thought the borders on the title page of The Fellowship of the Ring, the first book of The Lord of the Rings were just decorative, you are wrong. J. R. R. Tolkien, a former language professor at Oxford University, created several secret languages and alphabets for his works. He inscribed two of his invented writing systems in his books that have been since decoded by his fans.
The translation reads "The Lord of the Rings translated from the Red Book of Westmarch by John Ronald Reuel Tolkien. Herein is set forth the history of the War of the Ring and the Return of the King as seen by the Hobbits."
Han Solo's Alias in Star Wars
A popular Easter egg in Star Wars books and series is the alias used by Han Solo – Jenos Idanian. It is an anagram of Indiana Jones, a nod to the actor Harrison Ford's famous series. There are also numerous references to popular arcade games – Space Invaders, Pac-Man, and Asteroids.

Have you come across any literary Easter eggs that you want to share? I would love to hear them. Do share in the comments below.
This blog post is part of the blog challenge 'Blogaberry Dazzle' hosted by Cindy D'Silva and Noor Anand Chawla in collaboration with Mads' Cookhouse.
This post was created for the Blogaberry Creative (Monthly) Challenge.
Photo by Ioana Motoc from Pexels