History is written by men. About men. Indian history, more so.
The contribution of women in Indian history is relatively unknown. With exceptions such as Rani Lakshmibai, our history books in school were mostly about male kings and emperors. Where women are barely anything more than wives, mothers, and consorts. Mainstream Indian history is often from a male lens.
As we celebrate International Women's Day on March 8th and Women's History Month all through March, I share with you books to read on incredible women Indian history forgot. Warriors, queens, freedom fighters, social reformers, thinkers, and doctors. The history of women beyond the male gaze.
Women Warriors In Indian History
by Yugal Joshi
Buy at Amazon | Add to Goodreads
Quick question. List some warrior queens of India. The first and probably the only name that comes to mind is Rani Lakshmibai. What about the Gondwana queen, Rani Durgavati who refused to surrender to the enemy? The Maratha queen, Maharani Tarabai who brought Aurangzeb to his knees? 
Women Warriors in Indian History explores the lives of ten women warriors. Women who faced social and political opposition not for their capabilities but simply for the fact that they were a woman. Each life story is narrated by a contemporary historical character. Marco Polo, Emperor Jahangir, and Tantya Tope are just a few. Do pick up the book.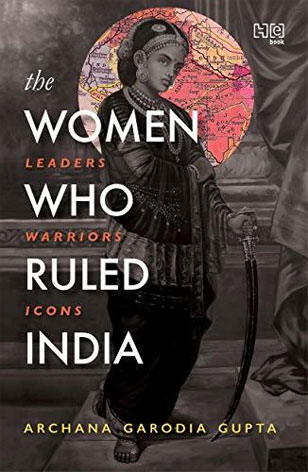 The Women Who Ruled India: Leaders. Warriors. Icons.
by Archana Garodia Gupta
Buy at Amazon | Add to Goodreads
"People say that I am a quarrelsome woman…"
The quote by the Maratha queen, Maharani Tarabai perfectly defines The Women Who Ruled India: Leaders. Warriors. Icons. A collection of stories of 20 powerful women rulers from the archives. Women known for their valor, leadership and diplomacy. Women who built roads, instituted laws, and were generous patrons of the arts and sciences. Women who shaped Indian history but are all but forgotten.
Velu Nachiyar, the Queen of Sivaganga and one of the first female freedom fighters. The Rani Abbakkas of Ullal who took on Portuguese colonizers. Karnavati of Garhwal who decisively defeated the Mughal army. Begum Samru, a courtesan who went on to head a mercenary army and ruler of Sardhana. Didda of Kashmir with keen political instinct and brutality that spared no one. Rani Mangammal of Madurai, an administrator who built alliances in times of war. The Begums of Bhopal, four women rulers in succession for more than a century.
Do pick up this inspiring read.
Her-Stories — Indian Women Down the Ages: Thinkers, Workers, Rebels, Queens by Deepti Priya Mehrotra
Buy on Amazon | Add to Goodreads
Warriors, activists, reformers, poets, writers, saints, historians, and astronomers. Women relegated to the margins. Vilified women. But women who have been thinkers, doers, subverting hierarchies and fighting patriarchy.
Her-Stories — Indian Women Down the Ages: Thinkers, Workers, Rebels, Queens sheds light on 57 amazing women across three millennia. From the second millennium BCE to the mid-19th century. Philosopher Sulabha, philanthropist Vishakha, fearless Uppalavanna, wandering bard Auvaiyar, mountain queen Didda, radical poet Akkamahadevi, Dalit rebel Nangeli, dancer-diplomat Mahlaqa Bai Chanda, Nawab Begum Qudsia, sharpshooter Uda, guerrillera Hazrat Begum and feminist writer Tarabai Shinde. And many more such extraordinary women.
Not just history but her-story. A lesser-known book that deserves more love.
The Last Queen
by Chitra Banerjee Divakaruni
Buy on Amazon | Add to Goodreads
The daughter of the royal kennel keeper who went on to become Maharaja Ranjit Singh's youngest and last queen. The Last Queen is the tale of Rani Jindan Kaur, Mother of the Khalsa. The fierce queen history forgot.
A regent queen to her son, she defied tradition to step out of the zenana, and conduct the royal business in public. The sharp-eyed and passionate queen who led the Khalsa troops to war. A rebel queen who did not let go even after being robbed of her only child.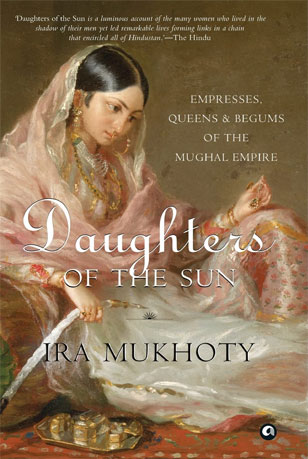 Daughters of the Sun: Empresses, Queens and Begums of the Mughal Empire by Ira Mukhoty
Buy at Amazon | Add to Goodreads
We have all read Mughal history in detail. But it has been a male-centric one. Where women were relegated to the zenana or simply wives, mothers, and consorts of the emperors. Women apparently without agency.
Daughters of the Sun: Empresses, Queens and Begums of the Mughal Empire explores the women of the dynasty. Brave daughters, eccentric sisters, fiery milk mothers and powerful wives. Working behind the scenes and from within the zenana. Some who rode into the battlefield. Who built stunning monuments, engaged in diplomacy, traded with foreigners and minted coins in their own names.
Jiji Anaga and Maham Anaga, Akbar's milk mothers who protected and guided the teenage emperor until he came of age. Gulbadan Begum, Babur's daughter whose memoir Humayunnama is so much more than a chronicle of her brother's life. Jahanara, Shah Jahan's favorite child who wielded major political influence. Just to name a few.
Lioness of Punjab
by Anita Jari Kharbanda​
Buy on Amazon | Add to Goodreads
"I would not accept my fate as a woman, left behind in the villages to mourn. I was going to fight."
Under siege and isolation, the exhausted forty soldiers of Guru Gobind Singh Ji decided to head home. They were met by a fiery Sikh teenager who lead them back to their guru.
Lioness of Punjab is the story of Mai Bhago or Mata Bhag Kaur. A coming-of-age young adult novel about a teenager who refused to be relegated to household chores. A warrior woman who lead an army of Sikh soldiers against the Mughals.
One of favorite reads of 2022 and a book I cannot recommend enough.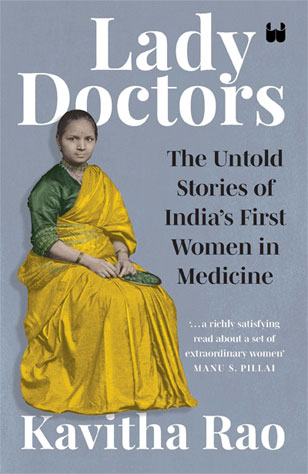 Lady Doctors: The Untold Stories of India's First Women in Medicine
by Kavitha Rao
Buy at Amazon | Add to Goodreads
We cannot imagine a world today without women doctors. But there was a time when Indian women were not allowed to study medicine. In fact, women could not receive timely medical care since male doctors were not allowed to treat female patients.
Lady Doctors unearths the stories of six extraordinary radical women who defied the social norms and patriarchy. Anandibai Joshi, who sailed alone from Calcutta to New York with the goal of becoming a doctor. Haimabati Sen, a child widow who overcame poverty and hardship. Kadambini Ganguly, a champion of women's rights and education who faced immense criticism and backlash from her community.
A book that is as much about the pioneers as it is about the socio-cultural politics of 19th and 20th centuries. This book is a must-read.
These are just a few books to get you started on the journey to discover incredible women Indian history forgot. Have you read the books above or have recommendations for me? Do share about them in the comments below.

This blog post is part of the blog challenge 'Blogaberry Dazzle' hosted by Cindy D'Silva and Noor Anand Chawla in collaboration with Mads' Cookhouse.
This blog post is part of the Women's Day Blog Hop, themed on She: A Tribute to Her, hosted by Swarnali Nath.
This post is part of Blogchatter's CauseAChatter
This post may contain affiliate links. If you click on a link and make a purchase, I may receive a very small percentage of the sale at no cost to you.
Photo credit: Canva.com