Genre: Contemporary Fiction
Publisher: Harper Avenue
Pages: 368
Published: April 2021
Rating: 4.5/5
Buy at: Amazon | Book Depository | Barnes & Noble | IndieBound | Indigo | Alibris | Add to Goodreads


Summary and Story:
You've Got Mail meets Tweet Cute set in two competing halal restaurants.
Hana Khan's family restaurant "Three Sisters Biryani Poutine" is struggling and just about everyone knows that. Now the only halal restaurant in the close-knit Golden Crescent neighbourhood faces competition from an upscale halal joint.
A part-time waitress and a radio station intern, Hana also runs a podcast where she shares her experiences as a brown Muslim woman in Toronto. But what she truly wants is to tell her stories. Not the stereotypical ones but the ones with heart.
When her mysterious aunt and her teenage cousin arrive from India, they draw Hana into a long-buried family secret. A hate-motivated attack on their neighbourhood complicates the situation further, as does Hana's growing attraction for Aydin, the young owner of the rival restaurant—who might not be a complete stranger after all.

As life on the Golden Crescent unravels, Hana must learn to use her voice, draw on the strength of her community and decide what her future should be.

Review:
I had read the author's debut book Ayesha At Last (a take on Pride and Prejudice) last year. I enjoyed it and had been looking forward to her next book. When Colored Pages Book Tours launched a book tour for the same, I readily signed up.

"Find your principles and see your story through to the end, no matter what."

Hana Khan Carries On primarily revolves around the titular character, Hana. Her interaction with her family, her struggle to find her voice at work, her "all gloves are off" fight with her rival, Aydin. Aydin on the other hand comes across as a character who struggles to impress his father while trying to do the right thing. None of the main characters (or even the side characters) are perfect. That is the charm of the story.

Blog Tour: Hana Khan Carries On by Uzma Jalaluddin #BookReview #HanaKhanCarriesOnTour @ColoredPagesBT @UzmaWrites @HarperCollins #BohoPonderings
Click To Tweet

The book is fast-paced. The writing is lucid with laugh-out-loud moments. There is a generous dose of the vernacular. And of course, there is food. How can a book based in a biryani restaurant not have food? It does change tone after the hate attack but that is expected. Something that is very well handled.
There are numerous characters in the book apart from Hana and Aydin but they all add to the story. Hana's family, childhood friends Lily and Yusuf, and cousin Rashid who is a sweetheart, And my favorite Kawkab Khala. Her back story is a fun read. These are characters that are well etched and ones you are invested in. There is also Zulfa who isn't stereotypical (without giving too much away).

"As my accountant parents always say, it's better to deal with issues directly instead of cowering. Be the blade in the hand, not the snake in the grass."

Most books with Muslim and South Asian rep tend to go with the rebel with a cause trope. Where the main character is written as a hijabi woman just to be unique. And it ends at that. The author on the other hand gives us an insight into the life of a young Muslim immigrant woman. Hana is not a stereotypical rebel. She is not one who is struggling with the archaic views of her parents. In fact, her parents are supportive of her decision to not follow in the family business. She is not perfect – she breaks rules, accepts her faults, and learns from them. A regular 24-year-old.

"My father says that trying to stop hate is like trying to stop the tides… The best thing you can do is take advantage of it. Don't stop the tide from flowing. Build a hydroelectric dam and make electricity instead, enough to power ten thousand houses. That's how you stop hate."

Although it is marketed as a rom-com, this book is way more than that. Not all light and fluffy. It delves into the issues of islamophobia, xenophobia, and racial discrimination. It is about first-generation immigrants made to feel they do not belong. It is about the stereotypes anyone from a minority community has to deal with. It is about the media trying to cash in on a hate attack with utter disregard for the repercussion on the victim. It is a reflection of how social media shapes narratives and not always for the better. It is also about the grit and determination of people dealing with the aftermath of the attacks.
The book was a tad predictable at times. The "You've Got Mail" reference was a dead giveaway. But all in all, it is a culturally significant book packaged as a rom-com. A refreshing read and I highly recommend you pick it up.


Giveaway (Ends June 17th):
Blog Tour: Hana Khan Carries On by Uzma Jalaluddin #BookReview @UzmaWrites @CindyAnnDSilva @nooranand #BlogaberryDazzle #BohoPonderings
Click To Tweet

This blog post is part of the blog challenge 'Blogaberry Dazzle' hosted by Cindy D'Silva and Noor Anand Chawla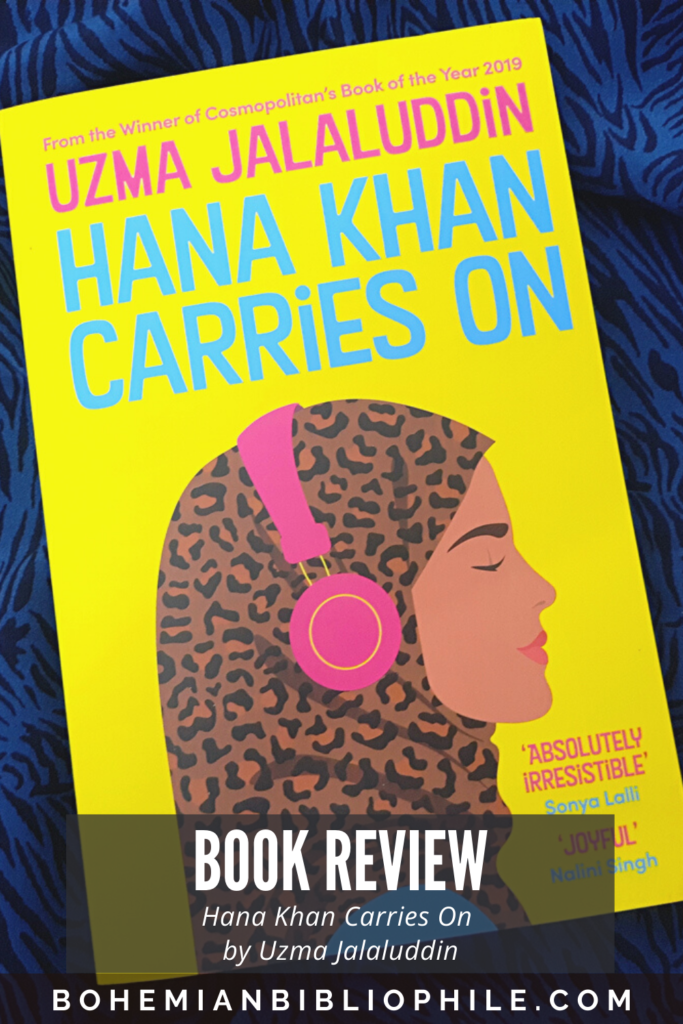 ---

About the Author
Uzma Jalaluddin is the author of AYESHA AT LAST (2018), a retelling of Pride and Prejudice set in a Toronto Muslim community. Her second novel HANA KHAN CARRIES ON (2021) is inspired by the movie 'You've Got Mail' and set in rival halal restaurants. She also writes a funny parenting column for The Toronto Star, and has written for The Atlantic. She lives in Toronto with her husband and two sons. Visit her online at UzmaJalaluddin.com, Twitter, Instagram, Facebook, or Goodreads.


Tour Schedule
May 31st: Quintessentially Bookish, @the_offbeat_human
June 1st: @bookishcornerr, For TheLoveof Fictional Worlds
June 2nd: @farrahlives, Diary of a Bookgirl
June 3rd: Emotional Medley, Read 'n' Dazzled
June 4th: Fatima Moosa, A Book and Chai
June 5th: Tea.Books.Magic, @inoirita
June 6th: Starry Eyed Enigma, Musing of Souls, @Booksandstrokes
June 7th: Heart's Content, Bohemian Bibliophile, Moonchild Lexicons
June 8th: Sugar, Spice and Stories, _half.blood.reader,
June 9th: Windows to Worlds, @_theliteraryartisan
June 10th: Roving Savant, @musfira._, Chai n Books
June 11th: Melancholic Blithe, The Tsundoku Chronicles, @padaku_ladka, @lonevixen_ka
June 12th: The Keysmash Blog, It's Just a Coffee Addicted Bibliophile, The Urban Reader
June 13th: @TahooraHashmi, Book Rambler
I would like to thank Colored Pages Book Tours and the publisher for providing a copy of the book for the blog tour. All opinions are my own.
This post may contain affiliate links. If you click on a link and make a purchase, I may receive a very small percentage of the sale at no cost to you.