If you thought Spotify is only limited to music and podcasts, think again. Spotify also offers a vast collection of audiobooks across a range of genres. Whatever your preference, you are sure to find an audiobook that interests you.
Most audiobooks on Spotify are sourced from LibriVox, a free app that offers free and unlimited access to public domain audiobooks narrated by volunteers. Recently, Spotify expanded into the audiobooks market by partnering with Storytel. So you can expect an extensive library and of course a better quality of audiobooks. This would roll out by the end of the year.
Spotify still has a long way to go with the audiobook features, particularly when it comes to reading speed. Nonetheless, it is a great option if you want to test the waters. And if you, like me, are always on the lookout for quality books. It could not get any better.
The Basics
Let's start with the basics. Spotify has an official account of all the audiobooks on the app. It does have a steep learning curve since the books are not necessarily arranged in reading order.
A fair warning. Much like the Scribd app, not all books are available globally. The books I have recommended are available in India. If you are not an Indian resident, do check if the book is available in your country.
While searching for audiobooks, avoid using the keyword "audiobooks" since it might throw up promotional podcasts, playlists, or sample chapters. Instead, use the keyword "unabridged" for a better set of results.
I have compiled some of the best books you can read on Spotify. These are available for free for both free and premium users. If you are experimenting with audiobooks but do not want to purchase a subscription. Or are looking to explore the app. Check out my recommendations below.
The Original Classics
A majority of audiobooks on Spotify are classics since they have been sourced from LibriVox. As there could be multiple copies of the same book, I would suggest experimenting around to decide which narrator works best for you.
Earlier this year, Spotify officially added nine classic public domain titles recorded by professional narrators and celebrities. These books are available globally and include Frankenstein by Mary Shelley, Narrative of the Life of Frederick Douglass, an American Slave by Frederick Douglass, The Awakening by Kate Chopin, Cane by Jean Toomer, Persuasion by Jane Austen, Great Expectations by Charles Dickens, Jane Eyre by Charlotte Bronte, Passing by Nella Larsen, and Red Badge of Courage by Stephen Crane.
Contemporary Fiction
Not just limited to classics, Spotify includes a selection of contemporary picks. Fiction, non-fiction, romance, LGBTQ+, young adult, crime, and thrillers. Whatever your preference, you are sure to find a bunch of books.
My absolute favorite from 2020, The Mountains Sing by Nguyễn Phan Quế Mai is not to be missed. A vivid and gripping account of Vietnam's 20th century history. Read the complete review here. Another favorite You Should See Me in a Crown by Leah Johnson is also available on Spotify.
Fantasy fiction lover? Do check out Descendant of the Crane by Joan He. If Convenience Store Woman is up your alley, pick There's No Such Thing as an Easy Job by Kikuko Tsumura. There are numerous options for romance lovers including the Bookworm's Guide series by Emma Hart.
The Super Sleuths
If you enjoy reading Sherlock Holmes or Agatha Christie, you are in for a treat.
There is a vast collection of Sherlock Holmes audiobooks including the originals and the novels. Although not technically audiobooks, you can find some fully dramatized performances of Conan Doyle classics too. There is also a small collection of Agatha Christie audiobooks. Hercule Poirot, anyone?
Non Fiction Picks
Last but not the least, the non-fiction collection has audiobooks from a range of genres including memoirs, history, philosophy, business, politics, and self-help.
Stamped from the Beginning: The Definitive History of Racist Ideas in America by Ibram X. Kendi comes highly recommend. So does What Works: Gender Equality by Design by Iris Bohnet.
My pick for the Cause A Chatter series this quarter is Environmental Talks and Nature's Best Hope: A New Approach to Conservation That Starts in Your Yard by Douglas W. Tallamy is one book that fits in perfectly.
This is just a selection of books available on Spotify. I would suggest exploring the app and discovering the books that work for you. If you are looking for other app recommendations, check out Getting Started with Audiobooks: Choosing the Right App.
Have you checked out the audiobooks on Spotify? What are your thoughts about them? What have been your favorite picks? Do share your recommendations in the comments below.
Best Audiobooks You Can Listen To For Free On Spotify @spotifyindia @CindyAnnDSilva @nooranand @heenasodhikhera #BlogaberryDazzle #BohoPonderings
Click To Tweet

This blog post is part of the blog challenge 'Blogaberry Dazzle' hosted by Cindy D'Silva and Noor Anand Chawla and sponsored by Queen's Brigade.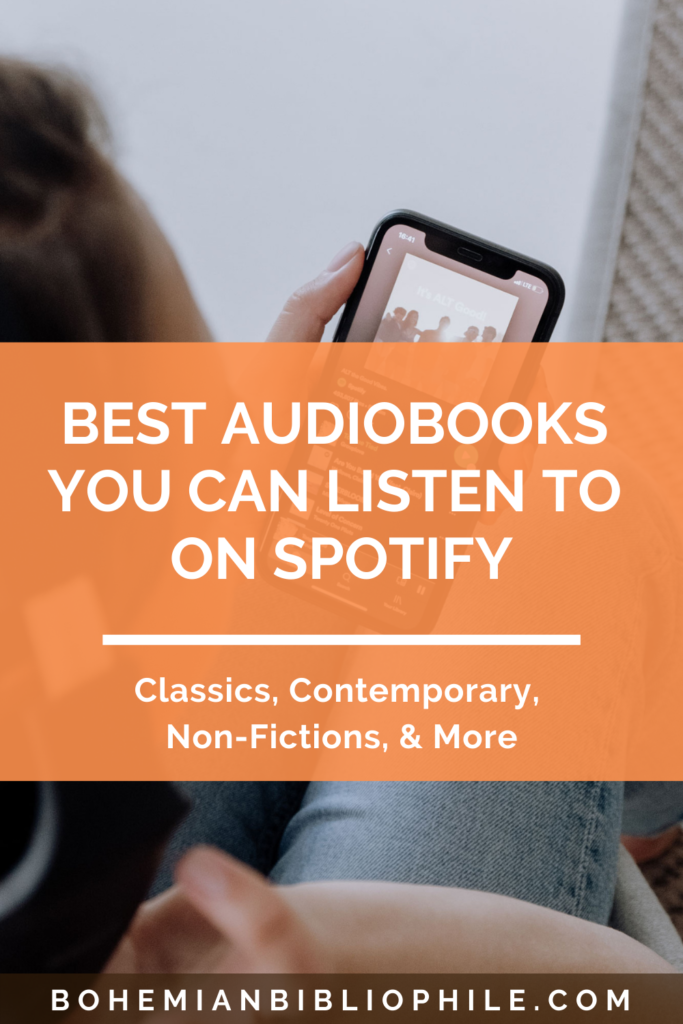 Photo credit: Canva.com