Think Punjabis and particularly Sikhs and the common perception is loud, boisterous men and women. Trust me, we are anything but. And we are definitely not perennial happy bunnies.
Balli Kaur Jaswal is one of my favorite authors and an auto-buy. She primarily writes fiction based on the Sikh diaspora. If you are looking to read about the "real" Sikhs, check out my favorite picks from her.

The Unlikely Adventures of the Shergill Sisters
Buy on Amazon | Add to Goodreads
One of my favorite books of 2019, The Unlikely Adventures of the Shergill Sisters explores the disconnect the second generation Indians feel with their country of origin. And the fact that they rarely fit in.
It follows the story of three sisters who have been asked to undertake a pilgrimage on behalf of their mother. As a Sikh, reading about the places of pilgrimage was a treat. And often eye-opening.
It picks on significant and hot button topics while not being too preachy. The author has seamlessly introduced a dialogue on the issues by means of conversation between the characters. Highly recommended.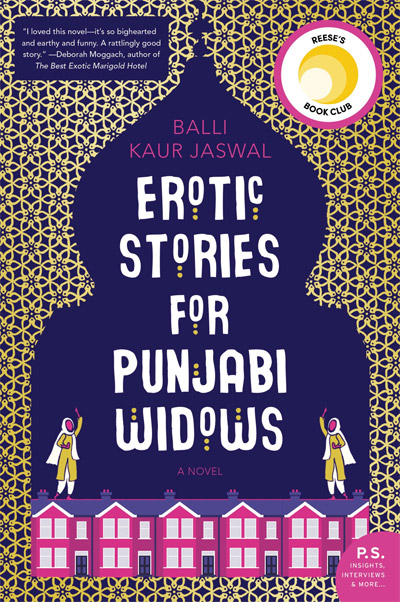 Erotic Stories for Punjabi Widows
Buy on Amazon | Add to Goodreads

Don't let the title hold you back. These "erotic" stories are more chaste than regular chic-lits. Erotic Stories for Punjabi Widows is so much more than that.
It is a thought-provoking story of London's close-knit Punjabi community. It explores the state of widows (immaterial of their social status) and also the politics of religion. The topics of child marriage, female sexuality, and domestic violence are well woven into the narrative.
One of the few books that is actually worth the hype. I cannot recommend this book enough.
Inheritance
Buy on Amazon | Add to Goodreads

Although her previous two books get all the love, Inheritance is one of those hidden gems that you need to check out.
Set in a timeline from the 70s to the 90s, it is as much about Singapore as it is about the Sikh migrant family. The book explores the dark side of traditional values. The struggle of a single father trying to keep the family together. A book about community, mental illness, sexual identity, and acceptance. Highly recommended.
Have you read any of these books I listed? If so, what are your favorite picks? Do share about them in the comments below.
Back To The Roots: 3 Favorite Picks From Balli Kaur Jaswal #BohoPonderings #MyFriendAlexa
Click To Tweet

I'm taking my blog to the next level with Blogchatter's My Friend Alexa.

This post may contain affiliate links. If you click on a link and make a purchase, I may receive a very small percentage of the sale at no cost to you.
Image by shalender kumar from Pixabay