Dealing with allergies as an adult is tough enough. But it gets more difficult as a child. And then there is the psychological and social impact of food allergies.
Books are a great way of introducing new concepts to kids. Today I share a compilation of five children's books for families with food allergies. Books that not only help educate children but also comfort and reassure those with food allergies.
While researching for the books, I was truly disappointed to not find a single book for Indian kids. In a country where nuts and wheat are a norm, we need more children's books explaining allergies. I hope the publishers take note.
The BugaBees: Friends with Food Allergies
Buy on Amazon | Add to Goodreads
The BugaBees: Friends with Food Allergies is the story of eight buggy friends including a butterfly, a beetle, and a cricket. It explores encounters with different types of food allergies on a daily basis. With vivid illustrations and engaging characters, the book helps promote that although food allergies can be dangerous, they not detrimental to having fun.
My Food Allergies: A Children's Book
Buy on Amazon | Add to Goodreads

My Food Allergies: A Children's Book is one of the best books to educate children with newly-diagnosed allergies. It is the story of a small boy and his family as they learn he has serious food allergies. What is an allergy, what are the symptoms, the importance of checking food labels, why a child must not share food. The book includes these important concepts and strategies to help manage allergies, all in kid-friendly format.
Nutley, the Nut-Free Squirrel
Buy on Amazon | Add to Goodreads

Nutley, the Nut-Free Squirrel is about an adorable squirrel who doesn't let his nut allergy slow him down. The book focuses on educating children about allergies and that it is okay to have them. The book also explores different types of food allergies through Nutley's friends.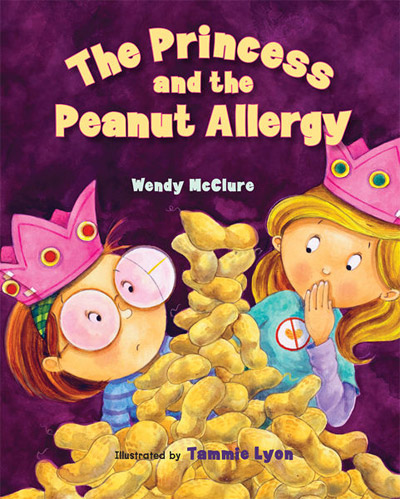 The Princess and the Peanut Allergy
Buy on Amazon | Add to Goodreads

One of the biggest detriments for children with allergies is the psycho-social impact. Particularly when it comes to birthday parties and school picnics. The Princess and the Peanut Allergy is about two friends, one with severe peanut allergy, and a princess-themed birthday party with a peanut-filled cake. It is a great introduction to nut allergies and focuses on why it is important to let people know about your allergies. It perfectly depicts the importance of respecting a friend's needs.
The Peanut-Free Café
Buy on Amazon | Add to Goodreads

What happens when a classmate has food allergies? Can the child sit by other children at lunchtime or should the food items be banned from school? The Peanut-Free Café explores the concept of a nut-free table. It not only helps raise awareness about allergies but also helps create empathy among children for people suffering from allergies.
I hope this collection of books would help children and families dealing with food allergies. Did I miss any of your favorite children's books? Do share about them in the comments below. Follow the allergy awareness series for more discussions around allergies. Let us start a much-needed conversation around them.
5 Must-Read Children's Books On Food Allergies #FoodAllergies #BohoPonderings #MyFriendAlexa #CauseAChatter
Click To Tweet

Disclaimer: I am not a medical practitioner. The purpose of this series is to bring about awareness. Please consult an allergist/immunologist for queries and overall management of allergies.
As a part of Blogchatter's Blogging with a Purpose campaign, I am using my voice to highlight something I care about.  
I'm taking my blog to the next level with Blogchatter's My Friend Alexa.

This post may contain affiliate links. If you click on a link and make a purchase, I may receive a very small percentage of the sale at no cost to you.